MEMBERS ONLY PETE DYE GOLF
"The ardent golfer would play Mount Everest if someone would put a flagstick on top." – Pete Dye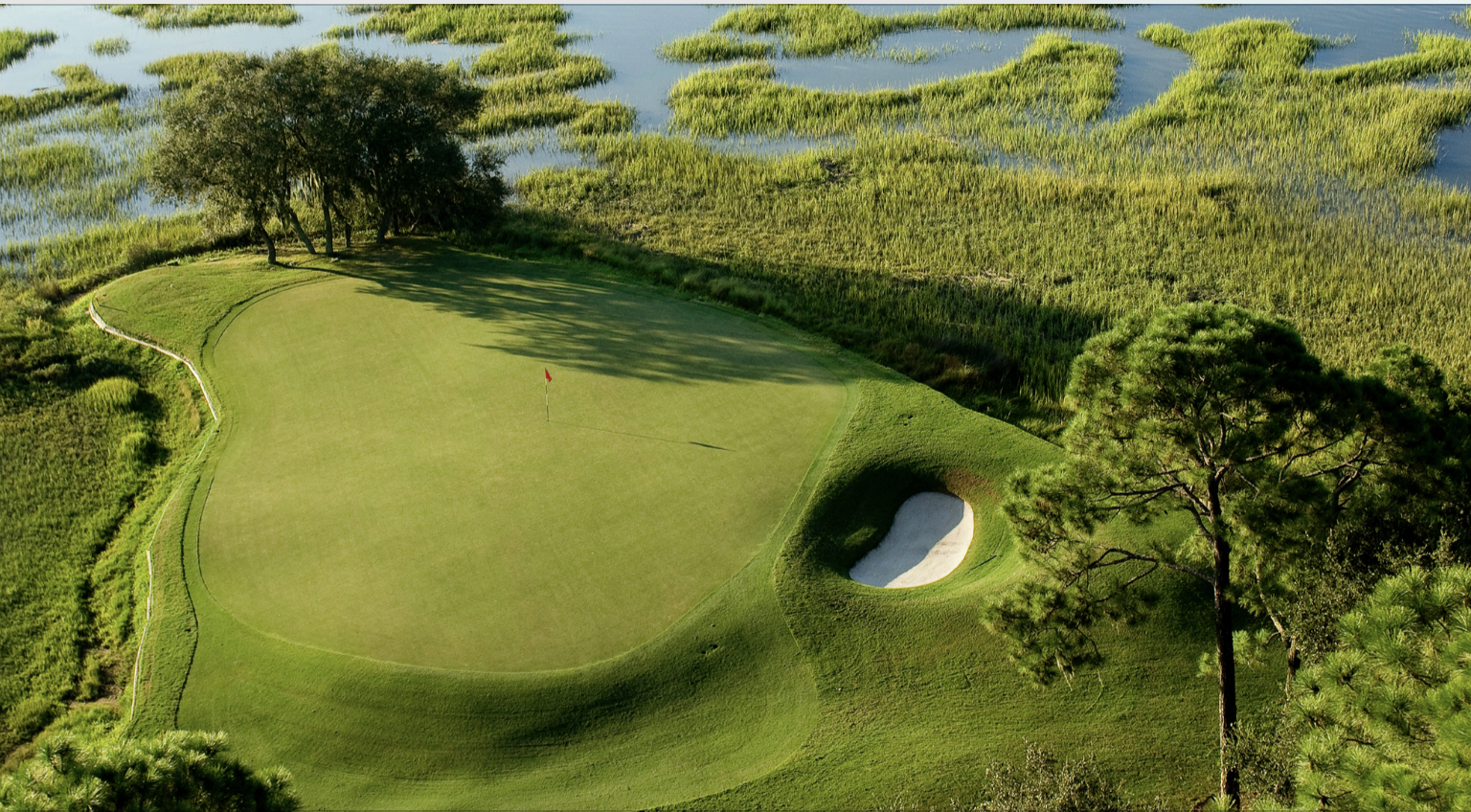 For the ardent Long Cove Club member, it simply gets no better than these 7,000 perfectly sculpted yards of pure Pete Dye artistic genius. A rare test of sport and spirit, this championship course takes you on an eighteen-hole adventure set within a breathtakingly beautiful Lowcountry backdrop featuring century-old live oak trees dripping with Spanish moss, stately Carolina pines, and stunning saltwater marshes.
Undisputedly Hilton Head Island's favorite, most flexible, and most challenging private golf course, Long Cove tee boxes are designed to accommodate golfers of all skill levels, creating an unparalleled experience for every player … every round.
Golf Historian Charles Price: ". . . nobody could intelligently pick the noblest courses without having played Long Cove. It's beautiful just for golf's sake. It fits the land that's there."
Long Cove Club Accolades
Readers' Choice for Best Community
- Island Packet Newspaper (2018)
#23 Top 100 Residential Golf Courses in the US
- Golfweek (2019)
#6 Best Golf Course in South Carolina
- Golf Digest (2017-2018)
#79 America's Best Top 100 Modern Golf Course
- Golfweek (2018)
Favorite Private Golf Club
- Hilton Head Monthly Magazine (2019)
"Long Cove is one of the best courses, if not the best, on Hilton Head and one of the best courses in the country. They do an amazing job with our tournament and we are blessed to be able to host at this course."
– Darius Rucker
Grammy Award Winner
Host of the Darius Rucker Intercollegiate
"Competitive golfers are sometimes leery of Pete Dye courses — you never know what type of scary over-the-top stuff he might have up his sleeve. But Long Cove was right there in front of you, very straightforward, and a really wonderful job with the land. It's certainly one of his best."
- Jim Stuart
1991 USGA Men's Mid-Amateur Champion
Long Cove Club
"Shot values, testing a combination of distance, accuracy and finesse, was by far the strongest rating category for Long Cove. It has such a wide variety of shots… a par three that is 'all carry' while another is 'bounce and run up'… no two holes are alike."
- Ron Whitten
Senior Editor, Golf Digest
"Long Cove is a great course… A wonderful blend of water and trees that soothe and scare you at the same time; this course will kick your rear end it you're not playing well — but it does so in a dignified manner." (McCord ranked Long Cove among his 10 favorite courses in the world.)
-Gary McCord
PGA & Champions Tour Player
Golf Commentator
"Long Cove Club has always been one of the top four or five courses I've played in the entire world."
-Rocco Mediate
PGA & Champions Tour Player
"I knew Long Cove was a particularly pet project of Pete's, but I had no idea how architecturally classic it would be. It is not baroque, in the sense that Harbour Town is, nor futuristic, in the sense The Player's Course is. It's just classic, tailored along traditional link lines in a way that will be in style when so many of the merely fashionable causes being built today have been turned into shopping malls.
Long Cove is not only the best course on Hilton Head; it is not only the best course in South Carolina; it is, in my opinion — and I have been writing about golf-course architecture for 30 years — one of the ten best courses in America.
It may not be the toughest course in America nor the most scenic. But nobody could intelligently pick the noblest courses in America without having played Long Cove. It's beautiful just for golf's sake. It fits the land that's there."
- Charles Price
Historian and Author
Contributing Editor, Golf Digest
Founder, GOLF Magazine